I feel quite a bit out of the blogger world. It has been many moons since I have posted anything. So I am going to go back a bit, just for my own sake and put up Halloween and Thanksgiving pictures :)
Our whole family went golfing together and loved it... to say the least. Every hole the boys would jump out, hit their ball, go get it, and jump back in the cart. Dave is a wild driver, a few times he almost lost me and the boys. No joke. At the end we were so cold, but endured. I passed on the last few holes because I was too cold.
Making Cupcakes
On Halloween we had SO MANY leaves to rakes. It literally took us all day! Collin and Casen enjoyed jumping in our piles and riding in the wheel barrel.
After finally finishing leaves, Collin, Casen and I went trick or treating. After my mom, little bro Coleson and Jena and Shane came over to make caramel apples, play games and watch a movie.
I didn't have any good pictures of us in Costumes on Halloween day... but here are pictures from another Halloween party
This thanksgiving we went to Grandma and Grandpa Minks house. On the way there we stopped in Durango Colorado and stayed in a hotel fromt he 1800's. It was so cool. We went to a childrens Museum and ate lunch and then drove the rest of the way through to Albuquerque. We had quite a good time with all the family. The kids did crafts while the turkey was getting ready. We all went to the movies. Collin LOVED going to the show with his cousins at night time. He saw some cartoon with them and we went and saw New Moon. I liked it, but it bugs me that that girl is so obsessed with Edward. (just so any of you know... I did NOT read the books)
I also woke up at 4:00 am and went shopping! It ended up being so fun. The day before my sister-in-laws and me planned out all the places we were going. The first part of the morning we were in 2 different groups so we could get all the good deals. It was definitely my favorite part of the trip. For now on every year I want to do the same thing.
Anyhow.... here are some pics
Strator Hotel:
Children Museum:
Grandma's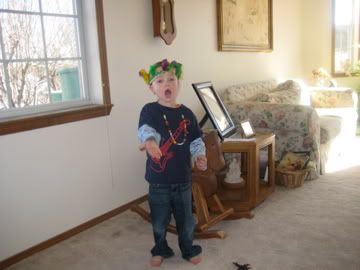 Happy Thanksgiving!